Countertop Basics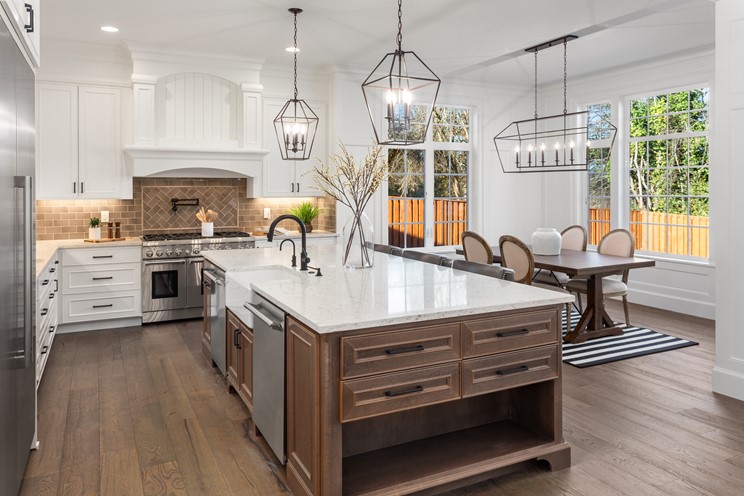 When it comes to the design of your home, your kitchen and bathrooms are a few of the most important areas. These spaces offer various opportunities to incorporate function and style! One of these elements are the countertops. Countertops are functional and offer an aesthetic value to every space. They provide the perfect opportunity to enhance the visual appeal of your kitchen and bath. Countertops see a lot of action; in the kitchen they take some abuse from hot pans, chopping knives, and spilled liquids and in the bathroom they are the resting place for hot curling irons, hair dryers, spilled make-up and much more. There are also countertops in laundry rooms, wet bars, bonus rooms and finished basements to consider.
Design opportunities can be found on the kitchen island, backsplashes, eye-catching materials for shower walls, tub surrounds/areas and edge details.
There are a variety of materials available for countertops such as timeless natural stone slab, including granite and marble along with durable and easy to maintain engineered stone Quartz countertops.
Many times, no one material is best for all surfaces. This is especially true from a design perspective; combining different materials in creative applications always makes for a showstopper space! Perimeter countertops can be of one material with a different material utilized as a full backsplash. The island is a separate surface that can showcase yet another countertop material. Let your inner designer take over!
Countertop Considerations:
Lifestyle: how do you live in the spaces where you will have countertops? In your kitchen, do you cook often? How about the bathrooms? How will each of them be used? Will there be make-up, hair appliances, lotions and potions that can stain, dis-color or burn the countertop surface?


Care & Maintenance: how easy is the material to clean? Is it stain resistant? Does it require sealing?


Aesthetics: what look, and feel do you want to create? Consider the color, veining, movement, matte, shiny, textured, smooth, modern, transitional, coastal


Durability: is the material scratch resistant? Will it withstand hot pots and pans? Burns? Chipping?


Budget: consider your budget carefully while focusing on the characteristics that are most important to you and how you will live in your home. By doing so, you will maximize your investment by selecting the countertop that will offer you longevity and style.